by JoAnne Kenrick
Of all the places in all the world, the last place I'd wanna end up is at Estella's for tea and scones. Her reputation exceeds her, yet folks still wander into that basement with hopes of being entertained.
Honestly, she may give good story and live in the creepiest, oldest house on the block, but would you really venture down those stairs into a vampire's lair for an erotic tale and possibly a tour of her historical home?
Okay, so she lives in York Cemetery house which sit on ley lines. I can understand why ghost hunters would be curious to explore that proptery. Maybe. Or why historians would want to get a load of the original moldings and woodwork. Maybe tourists are itching to have photographs of themselves in a creepy house which seems to have the same housekeeper as The Adam's Family judging by the cobwebs and dust.
But all sorts of folks find themselves in her basement for an erotic tale seemingly a cross between Twilight Zone, Tales from the Crypt and the Red Shoe Diaries. I'll tell you a little secret. Estella has powers. She's not just Dracula's rejected bride hung up on her runaway groom, or a snarky vampire with only food and Lucy Rot, the zombie--her sometimes-faithful lover--on her mind. She's psychic and she knows it. Sexy, too.
Her little deady bear, Lucy, is excellent at bringing home the bacon. And from time to time, the unwilling dinner guest enjoys a really smutty story. Hey, at least they die happy. That's probably the only happy ever after you'll find in these stories...individually. As a whole, though you'll find they make up quite the romantic little story. You see, Estella and Lucy don't just introduce the Edge stories in Tales from the Coffin, they have a story of their own, and within each book, their story progresses.
So what do you say...up for something different? Two stories in one? Come and get to know my two favorite but most feared characters ever...Estella and Lucy. But I must warn you, Lucy makes delightful finger sandwiches. Just saying. Can you count to ten?
I've shared lots of Estella and Lucy snippets, so it's about time I shared one from the story they tell in Strange and Beautiful. I've been told to keep it clean, so this is the only snippet I could use. The opening. Mwahahaha. Yeah, this is one naughty story. Estella might be an evil vampire with no pause for morality, but she an half knows how to tell da smut! Well, actually, so does Lucy...because this is her story of how she became a zombie.
(c) JoAnne Kenrick, Strange and Beautiful - Tales from the Coffin book one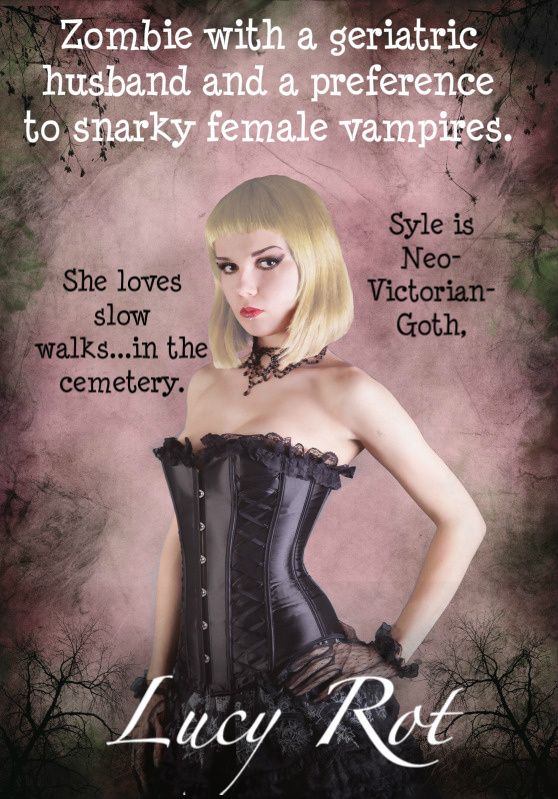 I always show up for dates on time, and it infuriates me when others don't. Get a watch—set an alarm, anything—because it's impolite to be late. My doctor is the only person I have ever forgiven for this terrible faux pas. I waited around for him. Had a swollen pussy and was dying for his touch. All my sensibility had flown two sheets to the wind. My head, too. Must have had three, maybe four glasses of cheap plonk while waiting. Just to break the ice. I suspected he was going off me. I mean, we'd been dating for a month and still no action. What was that about?
Pissed, and pissy at the bastard's lateness, I decided to pull out some whacky- a-doodle-doo of a magic book I'd bought as a gag gift and forgot to deliver. Fancy myself as a bit of a charmed one. Mind you, if that were the case, I could just call for my man and he'd orb in. My very own sparkly hero.
Reality check. Not going to happen.
I flicked through the first few pages of the pink paperback. Nothing interesting. Nothing connected to sex, anyway. Then I saw it. The perfect spell to try. Make your man worship the ground you walk on. Excitement rushed through me like a rogue roller coaster set for disaster. Right there. That was the moment I should have cut my losses and sobered up.
Instead, I finished the bottle of wine and chanted a few words. Chris stopped by an hour later. I'd run out of alcoholic lubrication and could walk in a straight line again, which meant I had sobered up for McSexy's apology. Is it lame I called him that? Whatever. Anyway, he made an excuse about helping some woman called Lizzie move into a cottage. I think I took in most of what he said—hard to focus on anything when biceps like his are right in your face. Worse when they're squeezed into such a tight shirt. He flicked his hair from his face and gave me the puppy-dog look with his coffee-colored eyes. I stood to ask him to leave.
Estella, Vampire Queen of the Rejected, is sick of men. Or so she would have you think. Ditched at the altar by Dracula himself, she'd rather spend her days with what she now believes to be the more faithful gender. Plagued by a Haversham complex, she gets her kicks by luring prey into her decrepit house with promises of erotic tales...but mind your manners, and fingers, because she bites.
Lucy Rotterdayne—a zombie better known as Lucy Rot—is Estella's sometimes-faithful subject and lover. Although why she hangs around to be ridiculed and taunted by a bitter vampire, she has no idea. Perhaps the answer is rooted the story of how she was zombified by a doctor who is simply masterful with his hands?